LS2 Nitrous Plate Kit
Brand new HOT ITEM!!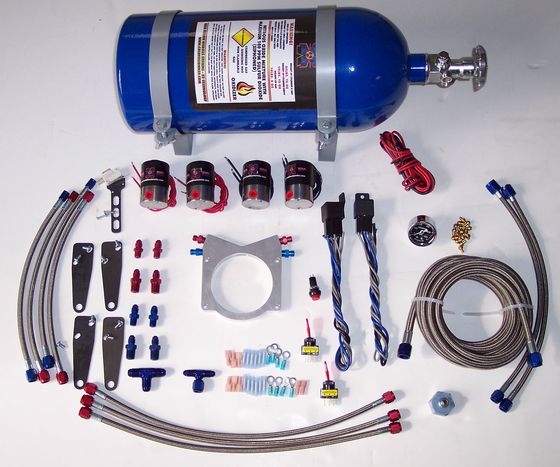 The long awaited Single and Dual Stage LS2 Plate Sytstem is finally here!!
Now your LS2 can make HUGE Reliable Nitrous Power!
The Single Stage kit can make between 100-250HP
The Dual stage kit can make beween 200-500HP!! (up to 250hp a stage)
This is the highest quality kit available, comes with a lifetime manufacturers defect warranty on all compnenets. Free Nitrous install DVD, huge reliable 400 HP solenoids, and everything you need to install and make big power on your LS2!
Including but not limited to 05/06 GTO-Vette-Any 90mm Thottle Body
| | | | | |
| --- | --- | --- | --- | --- |
| Item # | Item Description | Retail | Price | Purchase |
| CFN- | Complete Single Stage LS2 Nitrous Plate Kit | $699 | $599 | |
| CFN- | Complete Dual Stage LS2 Nitrous Plate Kit | $899 | $769 | |
| CFN- | Single Stage LS2 Nitrous Plate Kit - No bottle/bracket/feed line | | N/A | |
| CFN- | Dual Stage LS2 Nitrous Plate Kit - No bottle/bracket/feed line | | N/A | |
| CFN- | LS2 Plate Single Stage | | N/A | |
| CFN- | LS2 Plate Dual Stage | | N/A | |